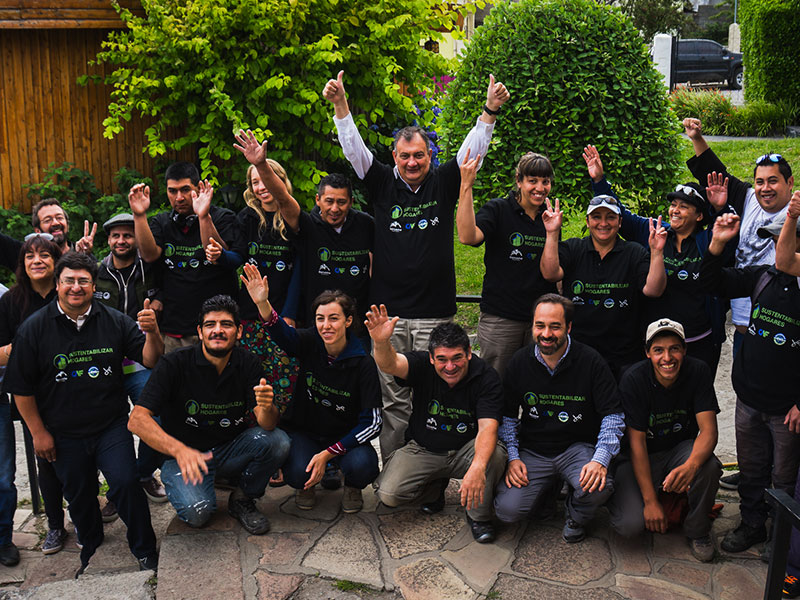 Working together with the Instituto de Tierra y Vivienda (Land and Housing Institute) of the City of Bariloche and a group of cooperative workers, weatherization is becoming a public policy in the South of Argentina.
The project started with a weatherization trip WWB organized for the City Mayor, Gustavo Gennuso. Mr. Mayor was invited to see first-hand how WAP works in the US, visiting CHP's training center in Virginia, homes being audited and retrofitted.
The second step started with capacity building for Bariloche. During 2016 a group of local officials was trained in energy auditing. Training started with a weatherization expert flying to Argentina for classroom and practical teaching.
After the training, a sample of homes is being audited and also the retrofits have already begun.
The current stage involves a sample of 100 homes to be weatherized. During this stage a huge amount of data is being gathered to evaluate how the programs works and shape the best version of a weatherization public policy for Bariloche city.
The main goal of the process is to design the next stages of the program, aiming at weatherizing 1,000 homes per year in the city.
The first families received weatherizers full of expectations, and the impact of the retrofits was immediately effective.

See the video of the first 2 weatherized homes at: https://www.youtube.com/watch?v=FGIAmmFlFxA
https://www.weatherizers.org/web/wp-content/uploads/2017/03/destacada.jpg
600
800
MAndrade
https://www.weatherizers.org/web/wp-content/uploads/2017/03/logo.png
MAndrade
2017-03-22 12:02:17
2017-03-22 12:02:17
Working together with the Instituto de Tierra y Vivienda